WELCOME to MSL Protective Window Films where The Difference is Clear! Whether you are looking for protection from theft, sunlight, or bad weather, our mission is to provide increased protection through security films and solar films to further shield your home, family, office, or vehicle.
Why use solar and security window films? We have laminate products that can provide an array of protective and decorative solutions, including:
Protection for your home and auto from "smash and grab"
Protection for your home and office furnishings, flooring, artwork from UV fading
Reduce the effects of solar heat for energy cost savings
Protect your windows and home from damaging weather elements
Provide privacy from those trying to see into your home, office, or auto
Decorative films for visual aesthetics that is more affordable than etched glass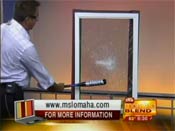 Through our partnership with 3M Corporation, we are committed to bringing you the highest quality technologies in security and solar films.
Check out our feature video on Omaha's Morning Blend.